RetroIDE: Retro game development tool for Android
I made RetroIDE. It is a retro game development tool suitable for use on smartphones.
You can easily create games with the code editor and the sprite editor. It also helps to make demos!
Demo
https://www.youtube.com/watch?v=idAJ1HhFQAI
Screenshots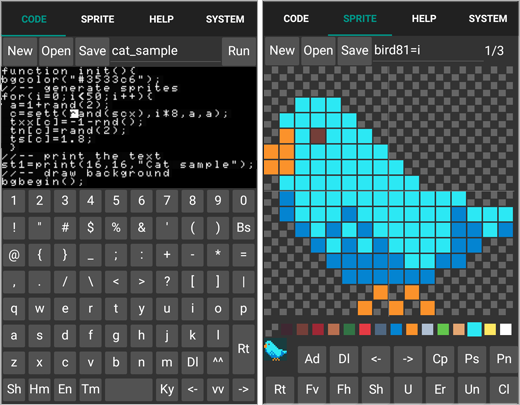 RetroIDE can be downloaded on GooglePlay.
https://play.google.com/store/apps/details?id=com.x0.ni.retroide
added on the
2018-01-10 15:28:17
by
N.I

Nice tool. I lame at coding but i like to try it.
added on the
2018-01-10 15:54:38
by
Volantis

looks cool
added on the
2018-01-10 17:31:25
by
g0blinish
cute.
although smartphones arent very nice for typing stuff.
added on the
2018-01-10 18:00:10
by
psenough

login